Description
You Can Walk or Run Again
Body Weight Support Treadmill
Lifelong Home-Based
Therapeutic Exercise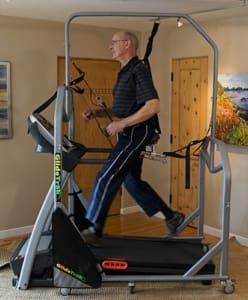 Is it too painful  for you to walk, go for a jog or run to your heart's content?
Is your balance or coordination affecting your ability to walk confidently, safely?
These challenges, caused by a range of conditions from joint pain, excess weight, plain aging, athletic injury; or neurological conditions such as Parkinson's, Stroke,  or other neurological gait dysfunction too often lead to a severe downward spiral in our  mobility, health, sense of well-being and longevity.
Conquer your challenges and stop the downward spiral now by walking safely and without pain.
Learn how GlideTrak converts any treadmill into a powerful Body Unweighted  Training  system giving you the power reclaim your healthier self and add years of quality mobility to your life!