The Company
GlideCycle is a division of Aldavida Inc. out of Ashland, Oregon. Aldavida designs, produces, and distributes High-percentage Body Unweighting equipment. The Company currently produces two commercial product lines: the GlideTrak and the GlideCycle and patented products in development.
Meet the Main GlideCycle Team
David Vidmar, President and CEO, Aldavida Inc.
David Vidmar is the visionary and founder and CEO of Aldavida Inc., holding the GlideCycle and GlideTrak divisions.  Here is his message:
"Hi, I'm Dave Vidmar and I invented the GlideCycle because, like so many people, my legs and knees can really hurt when I run too often or too far. I began dreaming at night of running without pain again, as fast and as far as I could imagine.  After an amazing  experience running weightless while holding onto a banana transport basket hanging from a zip line in Central America, it hit me – what if I could recreate that weightless running experience with wheels?
Well, after several years of challenging design evolution, I did.  I personally run 10 to 15 miles almost every day on this amazing breakthrough in weightless running technology we call, "GlideCycle." I've logged more than 12,000 miles of weightless pain-free running on beaches, bike lanes and mountain trails with friends.
Now, the GlideCycle takes weightless running to the beautiful outdoors for everyone. Our website is filled with videos showing people of every age, size and ability, hitting new fitness goals and having fun on their GlideCycles. Their success is the reason we are committed to bringing GlideCycle Weightless Running to everybody.  Join us and join the Weightless Running Revolution with your own GlideCycle."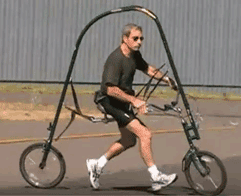 Dr. Gordon Levin, MD – Chief Medical Officer: "I gave up running because it hurt.  I glide run 8 miles 6 mornings before going to the office"
Board of Directors, GlideCycle
Orthopaedic Surgeon
Overseer of medical therapeutic applications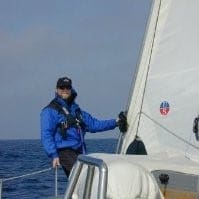 Jamie Rosman – Marketing Chair "I hate running.  I love GlideCycle running because it doesn't hurt, and I meet a lot of nice folks…..when I slow down."
Board of Directors, GlideCycle
Senior VP Marketing, KLA-Tencor, BOD—Director of marketing and sales
Dennis Girardot – Chief Financial Officer "I'm 49 and can't run anymore.  My GlideCycle gave me my athleticism back.  It is like my Avatar self–absolutely superhuman"
Board of Directors, GlideCycle
Budget director State of Alaska—BOD—Director of Finance
Supervision
Financial management, analysis
Budgeting
Human resources
Loan fund management
Pro forma development

Jan Vidmar – Office Operations Director
Board of Directors, GlideCycle
Shareholder
Office Management including accounts & banking, vendors & leasing
Director Special Ed Programs, Matanuska Susitna Dept. of Ed. Alaska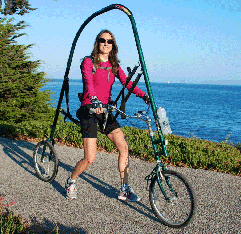 Cindy Powell, MPT,ATC,STS,CEAS — Director of Research, Training
Assist research development
Oversee all medical therapeutic exercise applications in writings
Physical Therapist, Athletic Trainer, Strength Training Specialist
College Program Director and Instructor with a passion for helping individuals achieve their goals for education, health, wellness and rehabilitation
Donna Jean Morris, MBA – Designer
Media Art and Design
Graphic Design
Style Manual
Layout Artist
Writer and Copy Editor
Mark Adkins – Production Manager
Facility Shop Manager, Medford, Oregon
 Overseer of U.S. production, product prototyping
China product reassembly
Packaging and shipping
20+ years of tight tolerance tubing manufacture
Outsourcing Production Parts Oregon
Steve Law – Share Holder
Shareholder/Consultant in lean Manufacturing and Engineering
Operations and Engineering Director with three regional companies
Former Senior Project Leader with Disney Corporation
Rich Miller – Shareholder
Shareholder/Consultant
Former CEO Aldavida
Current Director, Strategic Energy Group
Lean Six Sigma Consultant at Oregon Manufacturing Extension Partnership
Director of Operations, Professional Tool Manufacturing