Description
GLIDECYCLE  X-RUNNER (275 lb limit)
                                                     !!! FREE USA SHIPPING !!!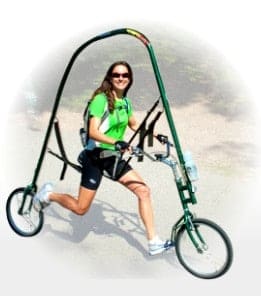 The incredible Running Bicycle that put GlideCycle on the map.  We would like to thank the world for now nearly 200 million viral video views, multiple Television shows and a great sales record!!!  We sold out in a flurry again, but are now stocked up and shipping orders.  (International orders please call to order)
The GlideCycle X=Runner is our newest design.   It is a powerful, durable running bicycle built for anyone up to 275 lbs.   It is constructed with a light, chrome-moly-steel frame that is guaranteed for five years. We are proud of our double powder coating, zinc and chrome plating that bring quality and durability to the GlideCycle.   It is truly the world's first bicycle designed to feel like real running…but with wheels, it is fast and fun!!!
Weighing in at just 37 pounds with saddle, the GlideCycle is easily disassembled into its custom carry bag for transport. This allows you to carry it onto a bus, toss it into the cargo area of your car, or store it anywhere in your home or apartment.  (see our carry bag display)
Experience the closest motion to running without body weight on earth.     GlideCycle PT X -Runner lets you run with superhuman speed and endurance…10 to 20 miles or more averaging from 5 to 8 minute miles depending on your fitness level. GCX-Runner is the world's finest weightless running bicycle.
Experience running with wheels today! Remember all sales are final. If you order online an experienced GlideCycle Rep will call to make sure you will be successful. This includes a short biometric evaluation of your physical condition and your commitment to learning a new sport, and an acceptance of the challenges and early difficulties such as learning to ski or any usual sport. There are over 200 videos of every type of person riding well in a short time. It is easy to see that if they can do it, you can too. We also include a free personal training assistance program. We will ask for a couple of photos and a short video to help us see you are set up correctly.  We will make you successful even if you just want to trot around town!!!