By Tidings Correspondent Lance Pugh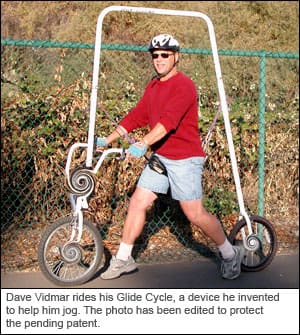 I saw it coming down the block. A man was suspended in a U-shaped frame with bike wheels, his saddle a combination of a retro stingray seat and a mountaineering harness. He loped along, taking large strides, as much of his weight was transferred to the frame, allowing him to bound down the street like a gazelle. Then he would put his feet on pegs and coast. The crazy device had brakes, small bike wheels, special handlebars, but nowhere to be seen were pedals, chains, gears, chain wheels or derailers. It appeared to defy all known rules of engineering, but as he pulled up in front of my house, coasting with his feet resting on the two chrome pegs, my first reaction was to smile. This was a new take on personal transportation, something that revved up the metabolism while cashing in on what most of us miss … fun!
Cars, bicycles and skateboards all dropped anchor as a flow of gawkers stood and peppered the rider with questions sprinkled with praise, as the GlideCycle™ was summarily blessed as "cool." More than a few wanted to buy one on the spot.
Though fresh in appearance and light to the look, the GlideCycle™ has roots that span centuries. In 1817, among the forests near central Germany, a new kind of vehicle was created by Baron Karl von Drais. It was the first bicycle and was wooden with two wheels, a seat and handle bars. It was the fastest thing of its time with speeds of 10 miles per hour. The hard part about the bicycle was that it was without pedals. One would use their feet and push while the wheels rolled on the ground. Drais' machine was patented on the Jan. 12, 1818 in Baden and was first called the "Laufmaschine" or "Running Machine," then later the "Draisiennes" (blend or move).
There are a myriad of alternative transportation devices that now zip along the streets of Ashland: skateboards of all sizes, electric and gas scooters, Vespas, Mopeds, gas and electric pocket bikes, roller blades, push scooters, gas powered skateboards, Segways, go carts, mountain bikes, touring bikes, track bikes, retro bikes, tandems, recumbent and, brand new to the mix … the GlideCycle™.
The rider, David Vidmar, turned out to be the inventor of the GlideCycle™ (patent pending), a peripatetic pioneer in lifestyles and vision. He spends much of the year aboard a 52-foot sloop, sailing the world with his wife Jan. When not at sea, David pilots his aerobatic Citabria, a two-seat plane, through maneuvers in the skies around Ashland. I find it difficult to understand the maneuvers he accomplishes, but he does and gets his jolts looping, spinning, stalling and rolling nearly every day.
Like millions of us, Dave used to jog religiously. Yet, after thousands of miles on the trail, his knees began to dislike the pounding punishment and began to revolt, in the form of persistent pain. Dave knew that change was coming and began to mull over the possibilities.
While trekking through Guatemala Dave noticed a plantation worker flying over a road, hooked up to an aerial cableway used to transport bananas. The worker would hitch a ride with the bananas, running when the clearance was low, then leaping and soaring as the cableway crossed roads and rivers. The key word was suspension and how that might take the jolt out of jogging.
After mooring their sloop in La Paz, Dave and Jan returned to Ashland to be with family. Between tending to the needs of his parents, Dave rounded up some parts and welded his first prototype together in the back yard of one of his brother's houses. He then added wheels, brakes and an innovative suspension harness that took most of the weight off his feet and onto the frame, which gave the GlideCycle™ rigidity despite no straight tubing connecting the front to the back. It also bestowed spring into the whole, making for a silken ride with no need for added shock absorbers.
Within a few hours Dave realized that the GlideCycle™ would be a boon to those in need of physical therapy for leg injuries, aerobic conditioning, weight loss and light-hearted play. It would allow one to gradually put weight back on once revolting knees and all a full range of leg movement and bodily function while working toward a satisfying reward … leaning back, placing the feet on the pegs and gliding along in a cocoon of silken suspension. One-legged riders have discovered a new welcome to the road and find that winging down the street is an experience overdue. Dave realizes what a boon the GlideCycle™ will be to so many and is obviously excited at how it is enthusiastically received.
The smile on his face told it all.