The World's First Body Unweighted Sport Runner for everyone 
Have you stopped running or walking because of joint pain, injury or just because you think jogging is too hard on you?  If you have, then you have given up the best and most fun health tool ever known…and you should ask yourself: 
How can I run without pain???
Imagine if you could run on the moon…with less than .3 times your body weight!  Imagine how much fun it would be to run for 3, 5, 10, or even 20 miles being so light nothing hurt.  Imagine taking strides half as long as your car and averaging speeds of 8 to 12 mph.  Imagine if that were possible!!!    It is:   your GlideCycle™ will make it possible for you by allowing you to running with your Body Unweighted…
GlideCycle™ Body Unweighting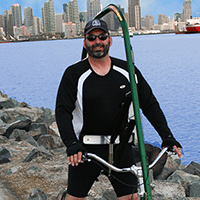 Body Unweighting or partial weight bearing has been used by pro sports teams, elite athletes and competitive runners as a major key to performance enhancement, accelerated recovery from injury, and maintenance of  high level conditioning for years. Now, GlideCycle™ brings the Body Unweighted sport running experience to Anyone Outdoors!  Whether you are 12 years old or 85; in great athletic shape or deconditioned, impaired or overweight to even 350lbs, unweighting your body to .3 times the force of gravity will let you run as if you were on the moon…without the damaging and ego deflating post exercise pain and fatigue!
The Ultimate Cross-Training and Recovery Day Solution
Your GlideCycle™ can bring to you: pain-free distance running, interval training, powerful hill climbing and recovery workouts by eliminating damaging impact to knees, hips, back and ankle joints. With GlideCycle™ cross-training you will have the ability to protect and maintain healthy joints for a lifetime of exciting unweighted running and exercise outdoors and still train for strength, endurance and aerobic capacity.
Go Anywhere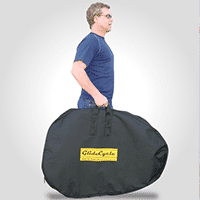 GlideCycle™ on bike lanes, unpaved roads, woodland trails, hills and even hard sand beaches. GlideCycles™break down and set up quickly, slip into their handy carry bag, and travel on your back, in the car, bus, airplane or even your canoe.
Run again with Anyone
Do you ever dream of running along with your partner, friends or kids who are training for a marathon?  Do you imagine whizzing by speedy joggers…or even running faster than your dog for a change?  When you run unweighted on your GlideCycle running bike you can———-and come in first…finally.
Proof in Research:
A new Brigham Young University study states that GlideCycle™ reduced ground reaction force to .34 times Body Weight compared to running at 2.39 times body weight. That means a 250lb person running will hit the ground each step with 597lbs of ground reaction force…and only 85lbs running on a GlideCycle™.
The GlideCycle™ Saddle…a totally new concept
The secret is GlideCycle's™  patented ergonomic saddle which lifts your body by your pelvis eliminating pressure on the sensitive perineal tissues of the crotch.  Your body is comfortably supported up into the GlideCycle™ smooth-arch suspension allowing you to run, walk, or glide along with super human speed and grace. You can run again,  along your favorite path with family and friends, or training hard on the track with your sports team.  Get your GlideCycle™ today and experience the thrill of unweighted running and virtually zero impact.
GlideCycle™ Research and education
Click here to access our educational library and learn more about the benefits of GlideCycling™
How to Ride a GlideCycle™
Click here for detailed instructions and answers to FAQ's about riding a GlideCycle.
History of the GlideCycle™
Click here to understand the motivation and story behind the creation of the GlideCycle™.
 Download PDF
An introduction to the Products: GlideCycle PT and PT Pro, the GlidesDale for those over 250lbs, The GlideTrak for … (Read More)
Recent Medical Center Placements
UCSF Medical Center, Department of Physical Therapy, Health & Wellness, San Francisco, specializing in treatment and research for patients with Parkinson's and Neurodegenerative Diseases. https://ptrehab.medschool.ucsf.edu/WellnessCenter/
Omega Sports Rehabilitation, Los Gatos, California  https://www.omegasportsrehab.com/ Elaine Capuchino – Executive Director Trevor Bostorf, M PT – Clinical Director Jennifer Wheeler, M PT – Staff Therapist Melany Sedilla, M PT – PT Assistant Paulette Innamorato – Administrative Director
Dominican Rehabilitation CenterSanta Cruz, California  https://www.dominicanhospital.org/Medical_Services/Rehabilitation_And_Therapy_Services/052808
Veterans Administration,  Roseburg, Oregon Terri Klein, Lead Physical Therapist and James Manser, Chief of Prosthetics
Touchstone Rehabilitation and Ride Designs, Phoenix Arizona Daniel Bonaroti, MPT, Owner www.touchstonerehabilitation.com  www.ridedesigns.com
Rogue Valley Medical Center Outpatient Physical Therapy Department, Medford, OR  https://www.rvmc.org/RVMC/Medical-Services/rehabilitation-services/index.aspx
Vasona Creek HealthCare Center, Los Gatos, California  https://vasonacreekhealthcare.com/outpatient.html
StoneBrook Health & Rehabilitation, Los Gatos California  www.StonebrookRehab.com
Willow Glen Convalescent Center,  San Jose, California
Offices of Dr. Gordon Levin, Orthopedic Surgery, Los Gatos California
Wellness Partners, Sacramento, California, Mitch Fields, Owner  www.wellnesspartners.com
Balboa Bicycles,  Newport Beach California,  GlideCycle Distributor,  www.Balboabikes.com
Access Sport America, Acton, MA, Ross Lilley  Executive Director/Founder, www.accessportamerica.com
City of Eugene Adaptive Recreation Services,  Eugene, Oregon,  Patty Prather, Director  https://www.eugene-or.gov/portal/server.pt?space=CommunityPage&control=SetCommunity&CommunityID=234&PageID=0
Adaptive Sports Partners of the North Country, Franconia, New Hampshire, Sandy Olney, Director www.adaptivesportspartners.com
Bretton Woods Adaptive Sports & Recreation,  Bretton Woods, New Hampshire www.brettonwoodsadaptive.com
Walter Reed Army Medical Center
Sales Pending at Rehab Institute of Oregon, Portland, Oregon 
Sales Pending at San Diego Naval Medical Center